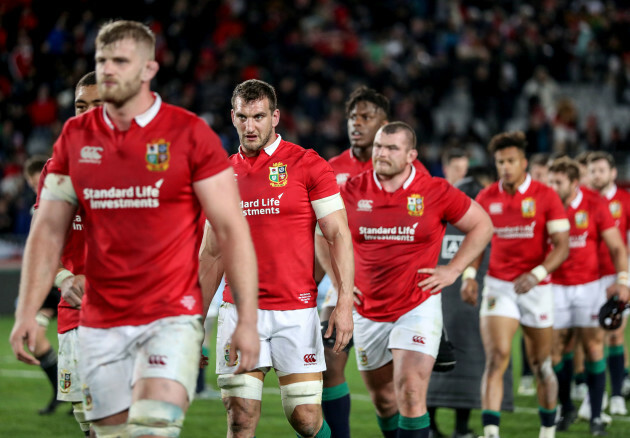 All Blacks 30 – 15 Lions
Lessons learned?
I hope the issues are identified and lessons are well and truly learned after the Lions taste first test defeat against All Blacks. The All Blacks have extended their Eden Park record to 38 wins, no defeats, since 1994!
This match started very well for the Lions and they looked in fine form. However, a combination of crucial errors in attack, and the All Blacks immense attacking flare made it a tough day for the Lions.
The Lions created a lot of scoring chances in this match, most notably after 2 minutes when it looked like a try had been scored in the corner, only to be held up by Sonny Bill Williams following TMO review. Then after a few minutes of play in the second half, another try scoring opportunity was butchered only a few yards from the try line. Of course, we probably scored the try of the tour in the first half. An incredible run from Liam Williams from our own 22 ended up with some lovely offloads that eventually ended up in Sean O'Brien's hands who barged over to make it 13,8 at the break.
The All Blacks came out firing in the second half and showed real grit and played with huge passion to keep the Lions at bay. The Lions probably kicked a little too much and the All Blacks did very well to slow our ball down at the ruck. Then, whenever the Lions made a silly error (and there were too many to mention), the All Blacks would capitalise and on most occasions score! That was the difference between the two sides.
The Lions are still suffering from "try line fever" in my opinion. They know how to create excellent chances and looked unstoppable at times when they entered the All Blacks 22. However, knock-ons, turnovers conceded and just some lack of control in the offloads scuppered our chances of converting some great attack into points. The positive from that is that the Lions showed huge intent and endeavour but they just lacked execution and a clinical edge at crucial times. If they can fix the basic handling errors and reduce the penalty count, it could be a much tighter game next week.
Credit to the All Blacks who pretty much controlled the game from minute one. They had most of the possession in the first and second half and knew exactly what to do with the ball each time they had it. They fronted up when defensive efforts were needed and when they got a whiff of a potential score, they capitalised and showed excellent skill to get over the try line.
The Lions can certainly learn from this test but I think the issue that has been haunting the Lions throughout this tour so far is not looking to be resolved. That issue is their inability to cut out errors in the 22 when try scoring opportunities present themselves. Granted, we scored two nice tries today but if you want to win a test match against the All Blacks, you need at least 4 and the Lions have failed to score this number of times in all but one match during this tour. The Lions try count has been quite low throughout this tour, apart from the try fest display against the Maori All Blacks from a Lions team that featured a very different team selection.
I don't think any major changes need to be made for next week. I would however move Itoje into the starting 15 and move Alyn Wyn Jones to the bench. I feel that a Sexton and Farrell partnership could be a great prospect, although Ben Te'o was sublime at 12. It'll be interesting to see what Gatland decides to do in this area. I have a feeling that Warburton will captain the side next week and Sexton will start at out half. What is a certain selection in my opinion is that Liam Williams MUST be retained at fullback, he in my opinion was incredible and our strongest attacking weapon.
In conclusion, it was a tough day at the office for the Lions and the All Blacks showed us exactly what we were all expecting. The Lions are showing great promise and if a few issues are fixed over the next few days, we might see a much improved and more clinical team next weekend. Two tests to go, and the Lions need to win both to win the tour. Lets hope we can get the win next Saturday and set up a nail biting finish to the tour! Onwards and upwards.